If you are a nerd and recently took administration in collage then one thing that you should definitely buy is skull hoodie provided by us. These hoodies will increase your reputation in collage and you will get a more badass look. Getting such stuff in collage will help you make friends easily and you would be popular in no time. So, the mantra to get a swag full impression at first day in collage is get our stuff.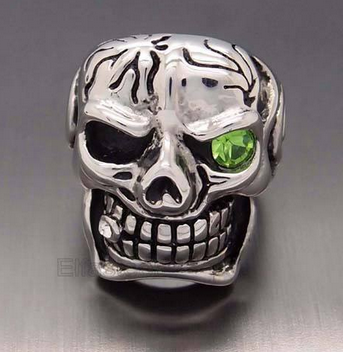 We provide Skull rings for men too; these rings are made from pure aluminium or steal which will ensure the durability of product. Aluminium is strong material and making products of this will material will last long and wont rust. One of the interesting property of aluminium is it is light so the weight of ring is not that much. You can easily wear it and light weighted aluminium will make you feel that you are wearing nothing. Also, the colour on metal is done with premium quality of acrylic colours, so it is water proof and stain proof.
You can also get some badass women's skull shirt. We like to create equality in market this is the reason we promote women products too. We have some cool skull t-shirts and tops for women's which will give them out of the box swag look. Such looks are very hard to get and they will drastically increase your popularity in collage. You can order all of this at our website. Currently a sale is going on where you get almost 70% discount so hurry up and get your skull goodies today. We ensure quality and make necessary steps to maintain it most. If you get any faulty product then immediate return of product is initiated and new product is given to you within one day.